Designed to empower military-affiliated students and encourage resiliency, this program maps out a purposeful series of steps and engagements from Admission to Post-Graduation.  Students can receive one-on one coaching, be matched with a peer mentor, attend veteran-specific workshops and networking events, earn incentives throughout the program, and much more!  
To register for this program, please click here!
For questions, please email milprogs@uccs.edu.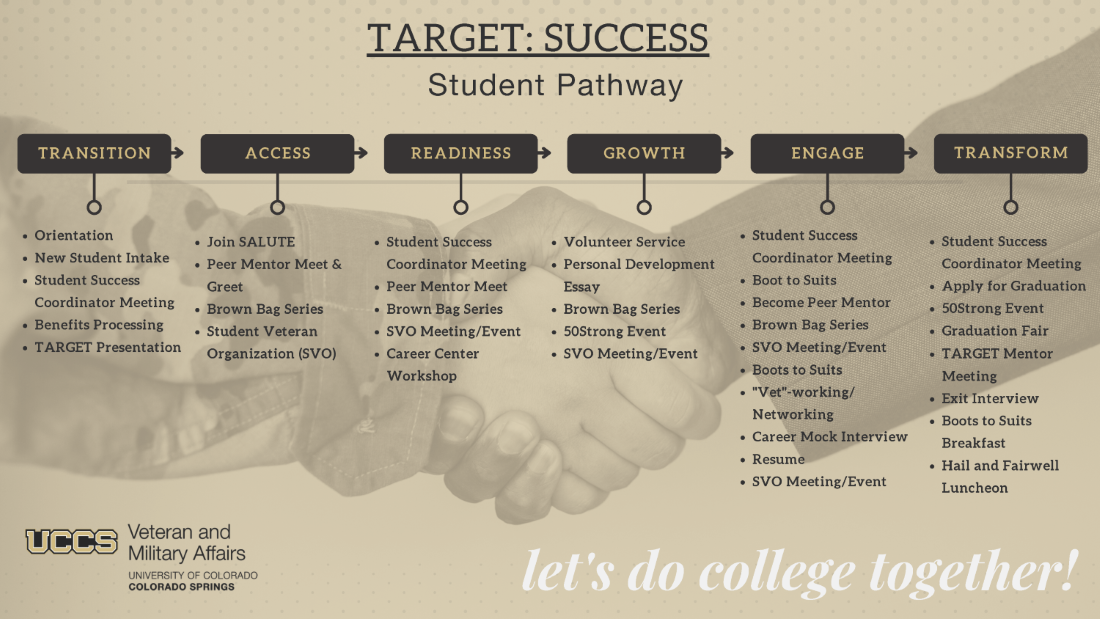 Research shows that programs like TARGET: Success support both cognitive and non-cognitive skills to better predict and ensure student success.
"Policies to Foster Human Capital" (NBER Working Paper 7288) by Nobel prize winner, James Heckman (1999).
Another great briefing used to better understand non-cognitive skills importance is the Economic Policy Institute-EPI  briefing paper 386. 
"The Need to Address Noncognitive Skills in Education Policy Agenda" by Emma Garcia (p.4, EPI Briefing Paper
 Completion By Design studies (Sponsored by the Bill and Melinda Gates Foundation)
http://www.completionbydesign.org/ 
"The Effects of Student Coaching in College: An Evaluation of a Randomized Experiment in Student Mentoring"
by Bettinger and Baker in 2011 http://www.nber.org/papers/w16881